Report
Vanarama National League North
Phillips 66 Community Stadium
Saturday 10th February 2018
Paul Holleran pulled no punches in his assessment of his team's shortcomings as they slipped to another frustrating home defeat, this time to a well drilled and uncompromising Harrogate Town side who still have designs on the National League North title.
The Brakes boss made one change to his starting eleven, restoring Joe Clarke after his one game ban in place of Jack Edwards who was starting the first game of his own suspension.
These two Spa town clubs enjoy their travels more in this fixture, each being unbeaten on the others turf, and the visitors continued that trend here with what looks a comfortable win, but while they were clearly the better side throughout the game turned on fine margins, as many of Leamington's fixtures have during this campaign.
Town keeper James Belshaw had to hold a deflected ball that dropped down onto the line early on but this was as close as the home side got to troubling him in the opening forty five minutes. His opposite number Tony Breeden was a little busier, making a smart save to deny Dominic Knowles, who bagged a hat trick for Burton Albion on his previous visit to the Phillips 66 Community Stadium back in 2013. The save helped the ball onto the post, and when it was played back in the Brakes skipper held a headed effort from giant striker Mark Beck.
Warren Burrell sliced a first time effort well over the bar while Jack Emmett drove another wide from the edge of the box. George Thomson fired into the side netting as Harrogate created all the chances, and they forged ahead just past the half hour when Beck got ahead of his marker to slam Emmett's low right wing cross inside the near post.
Leamington simply couldn't get going. They did begin to make some more promising forward movement before half time but Harrogate broke quickly from a good ball into their penalty area from Connor Gudger, who was then left chasing back as the ball was looped out to Thomson on the right, leading to a handball shout from the travelling fans in the Harbury Lane End.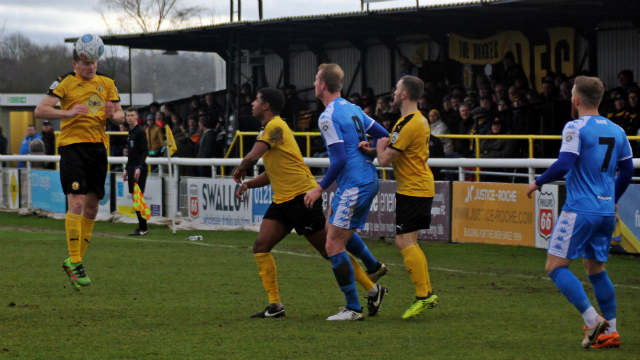 The second half proved to be far more entertaining, and Brakes gave the sparse home crowd a brief glimmer of hope thanks to a spectacular entrance from substitute Liam Canavan. The summer signing from Kettering Town has become frustrated with a lack of game time in recent weeks but he could not have made a bigger impact if he tried in this contest, scoring the equaliser less than 30 seconds after stepping onto the pitch. Kieran Dunbar's free kick from a central position some 20 yards from goal was well struck, with Belshaw unable to hold it. The ball squirmed loose for Daniel Udoh, who looked certain to smash it home only to be denied by a great challenge from Joe Leesley. Unfortunately for the Harrogate man he merely succeeded in poking it into the path of Canavan, who gleefully found the back of the net from three yards out with his first touch of the game.
The old adage that a team is most vulnerable when they have just scored sadly was the case here as Harrogate regained their lead within two minutes, on loan Leeds United defender Liam Kitching scoring at the far post on his league debut after a corner from Thomson was allowed to travel to the far post.
Emmett came close to extending the advantage soon afterwards, Breeden diving full length to keep out another well struck shot. Udoh was then played in by Canavan, darting between Louie Swain and Kitching to thrash in a shot that cannoned off the roof of the Harbury Lane End.
Belshaw produced the save of the match when he somehow twisted to palm James Mace's powerful header over the bar. Dunbar then shot into the side netting before Leamington fashioned another golden chance to level things up when Gudger's dangerous low ball in from the left led to Dunbar's shot being blocked, the ball rolling for Canavan, who was left thumping the turf in frustration as he blazed a first time drive over the bar.
The miss was brought into focus even further seconds later as Harrogate made the game safe with a third goal. Belshaw's goal kick was misjudged by Jamie Hood and Junior English, allowing Knowles to nip in and place a shot beyond the advancing Breeden to the delight of the travelling support.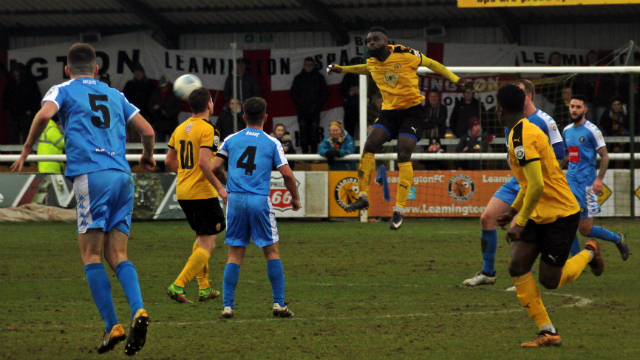 The game was set up for a grandstand finish when Kitching fouled Udoh just inside the box to concede a penalty, but Belshaw guessed right and dived to his left to keep out Canavan's well struck effort.
Both Canavan and fellow substitute Ahmed Obeng saw shots deflected behind for corners as the game petered out, Leesley driving powerfully past the upright at the other end, but the visitors were well worth their victory as they continue to reel in leaders Salford City. The contrast is stark, with a place in the bottom three surely only a matter of time away now for Leamington. Only a point separates them from the teams below, who all have games in hand.
Holleran cut no corners in his assessment of the 90 minutes, saying 'There's no doubt that Harrogate are a good side and they have good players, but when you come up against teams of their ilk you've got to go the extra yard, like we did when we played them at their place. First half it was clear to see that all over the pitch we were too deep, we didn't get close enough to them. They imposed their game on us and we didn't do the same. It was all to easy for them, and I was happy to go in only 1-0 down to be able to ask a few questions and jiggle things about. Second half we've come about and were more prominent, we got about them and played higher up the pitch. We got the goal to equalise and you think hang on, this could become interesting now, but the stats will back up that teams are most vulnerable after scoring a goal, and our game management simply wasn't good enough. There were a couple of occasions where we could have cleared our lines. What you've got to do after scoring a goal is try and play in the right areas, try and buy yourself a bit of time and let the emotions calm down, but what we have done is huffed and puffed and panicked, and then we haven't defended a set play properly, and a minute after the goal we are back where we were.'
'We've had good opportunities to get back into it and after having two or three chances to get it into the net the ball is cleared upfield, between our two centre halves and it drops for the kid (Knowles) to roll it into the net, and you're just standing there thinking what is going on here?'
'The problem we've had, since Christmas time really, is that the goals we've been conceding have been….comical really, and for us to compete and to stay in this division we've got to get back to keeping clean sheets, it's got to be harder. We're always chasing. You're playing a full time outfit with quality players for this level of football, and we're not good enough to be giving teams one and two goal starts. I've said it last week, we are making things too difficult for ourselves, and it's frustrating, because in between that there have been good spells where we've done things well, and you can see there's something there, but until we can find a way to cut out the individual and collective errors, to find a way to start managing the game better, and for certain individuals to perform better, what is already a tough task is going to get even harder. If you want to be part of this National League North you've got to step up, and at the moment certain players aren't doing that.'
Attendance: 412
Leamington: Tony Breeden ©, James Mace, Connor Gudger, Joe Magunda (12 Richard Taundry, 70), Jamie Hood, Junior English, Kieran Dunbar, Callum Gittings (15 Liam Canavan, 52), Daniel Udoh, Joe Clarke, Kaine Felix (14 Ahmed Obeng, 70).
Subs not used: 16 Kurtis Revan, 17 Stefan Moore.
Harrogate Town: James Belshaw, Warren Burrell, Louie Swain, Josh Falkingham © (12 Liam Agnew, 80), Liam Kitching, John McCombe, George Thomson, Jack Emmett, Mark Beck (14 Simon Ainge, 82), Dominic Knowles (15 Jordan Thewlis, 76), Joe Leesley.
Subs not used: 16 Ben Middleton
Referee: Mr Scott Simpson
Assistant Referees: Mr Ian Jackson & Mr Gareth Davis
Brakes Man of the Match: Liam Canavan.